Plook on the Plinth Award
Nominations for the most dismal town in Scotland
Aberdeen (Aberdeen)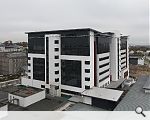 Aberdeen: where architecture goes to die.
-----------------------------------------
Please let Aberdeen win! I have written so many letters to the planners here with no effect. Winning the plook could the wake up call they badly need.
Bellshill (North Lanarkshire)
Reason for nomination: The main street has nothing going for it apart from hairdressers and bookie shops. Graham Mckillop
Cumbernauld (North Lanarkshire)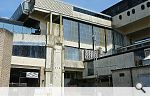 Reason for nomination: Right, to start is the vanishing of facilities: The local court: The bus depot: Abronhill High school (of Gregory's Girl fame): Local records moved away (to Motherwell): Clyde FC moving to East Kilbride: The local college facing closure (on merging with Motherwell College...)
Most of the businesses in the town cutting jobs: A worrying lack of contact with the council (they insist we travel to Motherwell): And a shite town center (still). The town is rapidly turning into a massive housing estate in the mould of Easterhouse before there were shops.
For example, they tear down nearly all of Deer Wood next to the M80 and claim it's NOT for housing? Yeah, right. I mean, we really didn't need Cumbernauld House anyway, so let's flog it to the first developer who wants to rip up all of Cumbernauld field and most of the land from the village to the railway line for houses. And the attitude of the 'Motherwell Mafia' (as some of the few remaining council staff c all them) should be investigated; all of them. And that shower in Holyrood are a worthless shower, as well. Our local MSP is an empty waste of space condemning but not questioning, just like all of the local Councillors.
It doesn't matter what party they're part of, they don't give a shit about those who voted them in. And Cumbernauld rots, slowly, dying as worthy causes fade to dust and the public suffers... And don't get me started on what an 'improvement' the M80 is!
Nominated by: Dave.
East Kilbride (South Lanarkshire)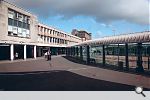 In 1962 the Queen visited the town centre but if anyone was to walk there today they would have great difficulty because all of the pavements are broken and neglected. East Kilbride has lost out to other towns in South Lanarkshire.
In March 2014 Westwood lost its library and they're talking about closing a second library in Calderwood, if that closes then 75,000 people will only have three libraries whereas Hamilton will have five. In the 1960's the EK development corporation produced a film, 'The Making of East Kilbride'... this is now the breaking of East Kilbride.'
Angus Davidson
As a son of East Kilbride, who has lived overseas for the last 25 years I would like to comment. I have until recently inwardly sighed at the demise of the town. Coming back to visit every two or so years I saw the deterioration of the town almost as a cancer. I can pin the first sign as to when the Development Corporation disappeared from the custodianship of the town. My comments on the run down facade of the town was unwelcome from my EK based family. They could not see it. Because it was in their face the daily cancer of decline.

But in truth they have a part to blame as in joining South Lanarkshire they were drawn to the lowest denominator. It was only going to go one way. EKOK a thing of the very distant past.

Craig Richardson
Greenock (Inverclyde)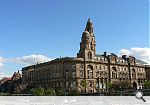 Why is Greenock not the front runner for the Carbuncle award? The local council has made a better job of trashing the place than the Luftwaffe did.
Kirkintilloch (Scotland)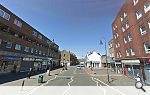 Reason for nomination: Most of tbe shops are closed down the town hall sits in ruins, generally looks like a place you dont want to go! There are some horrid estates in this town with names like ivenho and hairstanes all rather depressing. Nominated by: Drew
Leven (Fife)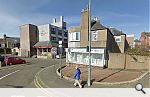 A grim post industrial wasteland with regressive pretensions to being a seaside resort because it happens to have some sand. Tourism came to an end in the mid 1970s. Part of Levenmouth, the largest conurbation in Scotland with no link to the rail network. 40 minute bus ride to fling yourself in front of a train. Levenmouth only exists in its component parts as a statistical entity to hide some of consistently worst poverty indicators in every area. Even the official stats place alcoholism and drug addiction at 10%. Violent pubs with a sectarian undercurrent, run down infrastructure, skeletal public services; dying town centre haunted by aggressive beggars; nominally pedestrianised, but choked with blue badge 4x4s and delivery vans. 2,000 council houses, mostly poor even for their period. Not a single building of architectural distinction, tatty older fragments set among 50s thru 70s, "so bad its bad." Traffic management stuck in the 1950s, with more rat runs through residential areas than any comparable town. Opportunities nil, 100% graduate bleed out rate, the locals, who are the most ill mannered to be met with in Scotland, wear expressions of thinly veiled aggression or utter despair, often simultaneously. Dismal new dormitory quaters on the margins, huddled behind the obligatory "screw you" palisade. A truly awful town, whitewashed by local and national representatives, including McLeish, Ming Campbell and Tricia Marwick, who hide from the tumour in their constituency. In fairness, it is the whole of Levenmouth which merits the award, since the conurbation is treated as a single entity and is uniformly depressing, ugly, violent and hopeless. I grew up here, I'm the local historian. This is just a fraction of the hidden misery of this place. Nominated by: Eric Eunson
Apart from being a buildings competition not a mood one Leven has a picture postcard beach with views round the bay from shorehead all the way to Largo with the magnificent Largo Law in the distance. On close inspection leven can be found as having 2 golf courses (one of which is championship standard) and large grassy areas and paths for walks especially onto silverburn estate which lies about a mile from the centre of the town. Many of the images of leven beach are captured on canvas by Jack Vettriano on his many popular paintings. As a holiday destination, Leven suffered from the same fate as many others when foreign holidays became cheaper and the town started to suffer. recent works done at the sea front still make it a pleasant place to visit but without the feel of blackpool. The festival gardens carry a memorial to those members of the Free polish Army who came to the area after the nazi invasion and many polish names are still to be foun d in the town from long before UKIP started moaning about them. they were always welcomed and always will be. The nightlife in Leven may not be Las Vegas but then when the economy was systematically decimated by closing the pits and the long lasting industries leven has done well with an expansion of the whisky bottling plant and the improvement of the roads that have finally arrived many years after Beeching shut down the rail service. The pubs and clubs are frequented by working class people who enjoy themselves with drinking and dancing being to the fore. No weekend night in a conurbation of this size goes trouble free but i would suggest no more than anywhere else. In good times the levenmouth area is dominated by the building of oil rigs in Buckhaven and the high street in leven and methil have improved in recent years but reflect the economic times with a good splattering of charity shops as well as shops for the cheaper end of several markets. All in all Leven is a go od place to live and although it may have its problems they are not for a guy who writes toilet histories (those books about bygone days that are best read in the smallest room in the house)
Paul
Lochgelly (Fife)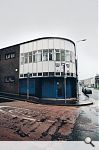 Majority of town within the top 5% of multiple deprivation in Scotland, despite hosting one of Europes largest petrochemical plants.
Highest underage teenage pregnancies rate in Europe Despite the charrettes, no improvement in the town, and charrettes is now used to rubber stamp developments without proper consultation or local planning democracy. Lowest house prices in the UK
Multiple wind farm developments (1 constructed, several approved, and more pending) visually impacting on town. Town has officially been identified as a cancer cluster by the Cowdenbeath Area Committee and NHS Fife
Nominated by: Fed up Lochgellian
Maddiston (Falkirk)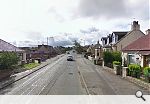 Reason for nomination: Lack of community spirit. Building new houses where these new home owners don't want to support local businesses . Maddiston Primary school over compacity yet council want to build more houses Main Road very busy at Times When kids are going to and coming from school and car owners who pick their kids up are the worst for breaking 20 mph speed limit . at night time it can be very noise with boy racers with cars with load sports exhausts racing through Village.
Falkirk District council seem to use Maddiston as a dumping ground for unemployed homeless and people addiction problems. In new build Barrat and Daivd Wilson homes and soon to Persimmon Homes the people pay well over the market price to come here and live pay committee charge which is far to expensive for the area . None of the people living in these homes are told houses are built no top of a clay mine which GR steins operated from maual brick works Whitecross.
Nominated by: LIONEL McMILLAN
Back to The Carbuncle Awards 2015