Aberdeen counts on cafe culture to kickstart the dormant leisure economy
May 17 2022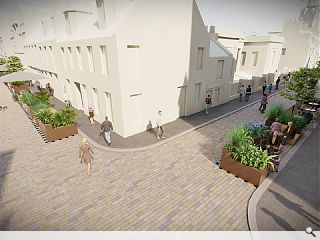 Aberdeen City Council has opened a consultation on proposals to bring cafe culture to Belmont Street.
£1.5m has been allocated for public realm improvements to attract food and drink retailers to the conservation area with either protected outdoor seating under umbrellas or physical shelters, the latter of which would require detailed planning consent.
Should the street furniture solution be pursued installation could take place in the autumn but the choice of more elaborate structures would delay delivery to spring 2023.
New planters and improved management of deliveries would establish designated outdoor all-year spaces for businesses by freeing up a street that would otherwise be relegated to lorries and refuse.
Setting out its vision the authority wrote: "Following temporary measures to allow businesses to trade outdoors during the Covid-19 public health emergency, Aberdeen City Council is seeking to introduce a permanent café culture to the Belmont Street Quarter with a £1.5m investment in the area.
"It is intended that this investment will help to grow city centre employment and create a metropolitan look that will develop as an attractive food and drink destination. In addition, it will become a culturally distinctive neighbourhood that will enhance the conservation area and, above all, forge a living city for everyone."
Comments are invited through to 27 May.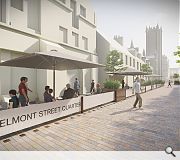 Belmont Street connects directly to the revitalised Aberdeen Art Gallery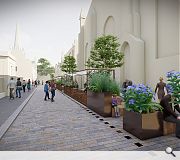 Options including fixed shelters and moveable umbrellas are being looked at
Back to May 2022