Wilson's Weekly Wrap: Campaign bane, Museum musing & Just another award
October 28 2008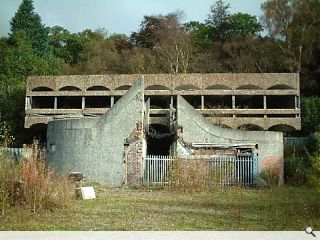 Campaign bane
It seems to have become the fashion for luminaries in the architectural profession to write letters to the Times and other papers demanding that this or that other building should be saved for the nation and it would be difficult to ignore BD's campaign to save Robin Hood Gardens, a now fairly run down housing project by Alison & Peter Smithson. I confess I've never personally been convinced by the Smithsons' supposed genius and indeed always found their lectures a tad pompous with no little pretention to intellectual grandeur. I suspect the campaign to save and upgrade the building will not fare too well now that all available sources of public finance are being redirected towards the bail-out of the UK banking system and equally suspect that plans to save other cause celebres of a similar vintage – St Peter's in Cardross being the most obvious local example – will equally suffer from the drying up of the wider well of development funds. A similar, but no doubt more appealing, project for punters is the current campaign to save Vanbrugh's Seaton Delaval in Northumberland. It only needs another £3m to be raised by Christmas (actually the full sum is £7m from the National Trust with a further £3m possible from other public grant sources, so £13m in total).
Now, in contrast to my comment about the Smithsons (above) I'm a big fan of Vanbrugh's work, but I find hard to take seriously the notion that if this money is not raised the building could be developed into (gasp) private accommodation or, even worse, a hotel. I have to say I can't see what the big problem is here – it is a remarkable structure, indeed one of Vanbrugh's finest, but it has also been a burned out shell for almost 200 years. In Spain they'd have no cultural or intellectual problem in turning it into a Parador in which we could all enjoy "the unique spirit of Seaton Delaval" counterpoised with the best of modern hotel design. But that's not the British way – we prefer the National Trust's Laura Ashley version of our history, restored and paid for from our taxes and then again from our entrance fees, so the architect signatories to the letter who could easily afford to dip into their own pockets (e.g. Lord Rogers, Will Alsop, Richard McCormac) sit on their hands instead. And what of another signatory, Ian Simpson? Could this be the same Ian Simpson who recently featured in the press as having the most expensive home in Manchester, an £8m penthouse atop a tower of his own design? Get real guys.
Museum musing
Scotland probably has more visitor centres and museums per head of population than any other country in Europe (who can forget those heady days in the 1980's when finding new uses for old buildings invariably met with a proposal that they should become a museum of something or other?) and I used to think that the creation of them had produced a whole series of internationally sellable skills in interpretation graphics, lighting, sound and AV systems etc. Certainly we have some extremely competent companies in each of these areas, but my notions about our skill levels were brought up short recently by two things – the Culloden Battlefield Visitor Centre where a firm of US designers was employed by National Trust Scotland in preference to any home grown talent to interpret our history and made a less than adequate fist of the job – and a short visit to Spain recently where I visited three newish museums of absolutely outstanding design.
The most obvious thing about each of the latter that contrasted so strikingly with Culloden was the sheer quality of the relationship of the fit outs and content to the buildings in which they were situated. The second thing was the straightforward – and beautifully presented – interpretation of the material – no punter-lite, 'vox pop' interviews with imaginary historical figures for the Spanish, just the real facts. And it doesn't seem to matter whether the building in question is a major national monument (Burgos Cathedral) or a small, but historically important edifice like the monastery in the tiny village of St. Domingo de Silos, the level of design and construction quality is extremely high. The Artillery Museum in the Alcazar in Segovia was the third revelation of the visit – an extraordinarily dense display made educational and enjoyable without any feeling of being overpowered by the sheer volume of material on offer. This was modern Spanish design at its most intelligent.
I don't want this to sound like a 'grass is greener' story, but instead am making a real plea to our cultural leaders to get out more and realise that history and culture are not some quaint aspects of the entertainment industry in which every visitor gets to sit for a minute or two in the Big Brother house. There is no question that we have the skills to do the job properly but this requires us to employ our best talent and stop buying medicine from snake oil salesmen.
Just another award
Some awards hit the professional and trade press and some manage to get national and even local press coverage. Not so much coverage actually, more a short mention on the winners – and so it is with this year's Building Construction Industry Awards, which gave its 'Best Commercial' Award to Foster & Partners' No 1 Quartermile Square development in Edinburgh and its 'Best Small Project' prize to Michael Laird Architects for McInroy & Wood's new headquarters building in Haddington. I'm not quite sure how a building gets to be judged the best commercial project when it's not yet fully occupied and tested in use but, hey-ho, I wasn't a judge so didn't get to raise the question, McInroy & Woods distinctive new building, by contrast was purpose-designed and is clearly doing the business for its courageous commissioners.
PR Tip # 8 - doing the business
I mentioned RMJM a few weeks ago for its extraordinarily consistent approach to p.r. and by jove, they just keep churning it out down in Bell's Brae. Hot on the heels of the company's announcement that it had won a competition to design a tower block in Ekaterinburg, Russia's fifth largest city, comes the news that it is to design what is described as a whole new city in Dubai. The latter, a 1,000,000 square metre mixed use development, is to be named 'Madinat al Soor''; the former is to house what is thought to be the world's first 'vertical park'. Now I know neither of these latter facts will register in your consciousness for very long, but they are sufficiently different to catch the attention of newspaper editors and sub-editors who need to fill a news space and come up with a catchy headline. It doesn't get much more catchy for the Scotsman than 'Scots architects towering over the Urals'. So remember: focus on what the newspaper or magazine is likely to find quirky or unusual, not what you think is architecturally interesting. That way you're likely to get published in the general press.
A p.r. p.s.
A few weeks ago I mentioned the value of a simple postcard announcing the completion of a new project, so it was good to receive just such a communication from Ian Springford Architects about the practice's recently completed Residential care Home at Bingham Drive in Edinburgh. To be fair, Ian hardly needed to refer to my pr tip for this as he has sent out a very identifiable house style of postcard since he first formed his office. The important thing is that it costs relatively little and it works (I've noticed it and mentioned it in the press) – both valuable benefits in these difficult times.
Another p.r. p.s
Another advocate of the simple postcard that I've mentioned before is John McAslan. John has long been a dab hand in the use of simple, effective p.r. techniques, a fact I highlighted some weeks ago when I heard of his plans to open an Edinburgh office. Sure enough, the first p.r. assault to make Scotland aware of this new presence on the scene is an invitation to the launch of his new base here. Not just a simple office opening mark you, but a do at the Scotch Malt Whisky Society in Queen Street on 13 November with John 'in conversation with Jack McConnell MSP'. I'm not sure which one will be asking the questions, but I wouldn't be surprised if sometime in the near-ish future I find myself making mention of a new McAslan office in Malawi, where McConnell is due to take up the post of High Commissioner. John of course has his own charitable foundation helping to educate children in India.
And finally…
A+DS is to undergo a review by the Scottish government, with its policy, financial management and remit to undergo scrutiny. This just about covers everything the design watchdog – as the papers like to style it – does, so should we presume a radical overhaul, closure, or simply a change in the level of funding it receives. Of course, there may be some amongst you who'd forgotten all about the existence of A+ DS, such has been its impact on life in Scotland's built environment.
image from St. Peter's Building Preservation Trust
Back to October 2008