Affordable homes take shape at Shawfair
April 28 2022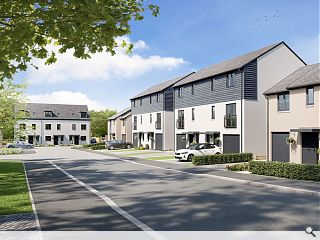 Dandara East Scotland is progressing plans for 56 homes at Shawfair, Midlothian, with the appointment of JR Scaffold Services.
Including 18 affordable homes spread within two, three-storey blocks, the build is the latest stage in efforts to build a 4,000 home new town.
In a statement, Dandara wrote: "Shawfair offers country living within easy reach of Edinburgh city centre on the rural edge of Edinburgh, surrounded by beautiful countryside, a good choice of woodlands and country parks. Since the Edinburgh coast is just a few miles away, you'll have the best of both worlds here.
"The well-planned town centre of Shawfair caters for all the needs of couples and growing families alike, with offices, shops, schools and community spaces all close to our new homes in this up and coming area."
All homes come with photovoltaic panels to provide renewable electricity.
Back to April 2022