Factory rebuild to offer Canonmills creative community a home
April 7 2022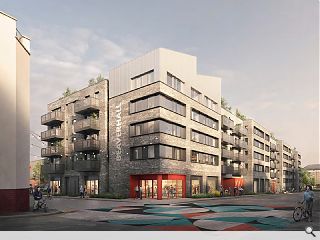 Residential property developer HUB has aired plans for the redevelopment of Beaverhall House, Canonmills, to provide new build apartments above ground-floor studios for the local creative community.
ShedKM, with MRG landscape architects, propose to demolish the current red-brick 1970s factory and replace it with a brick and profiled metal new build, with an articulated roofscape feature at the junction with Dunedin Street recalling its industrial past.
Incorporating ground floor public realm and community uses accommodation is arranged along a central spine from which projecting 'articulated fingers' are attached.
Outlining their design approach ShedKM wrote: "The new scheme is set back from the original building line, giving the pavements more breathing space. In addition, the building is recessed in parts along Beaverhall Road, bringing additional width to an already widened pavement.
"Rain gardens between the pavement and the road form part of the SUDS features but also bring some much-needed greenery to Beaverhall Road. The 'special corner' at the junction brings playfulness with a red metal sleeve, column and window frames."
Containing 205 apartments (25% of which are to be affordable) the project incorporates a fifth-floor setback to accommodate a large roof terrace and amenity deck with additional public spaces provided in the gaps between each 'finger', accessible via a pend from Beaverhall Road.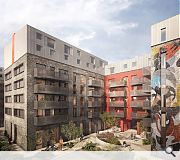 Courtyards will be contain their own distinctive character, including a maker's yard doubling as an outdoor gallery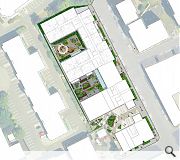 Red brick provides a playful treatment to courtyard recesses and feature areas of the ground floor facade
Back to April 2022