'Orchard of learning' Peebles campus set to grow
February 18 2022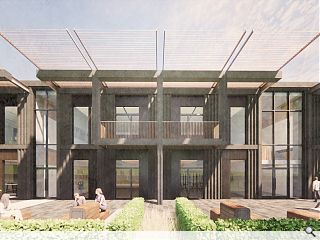 Scottish Borders Council has shared plans for a £46m replacement Peebles High School following a devastating 2019 fire.
Stallan-Brand Architects have been brought on board to oversee the new building, which will introduce a range of educational and community facilities to the town when it opens in 2025.
The tandem build solution is set to break ground later this year, rising on the footprint of an existing rugby field, evoking the form of a 'country estate' property typical of the surrounding area.
Modelled as an 'orchard of learning' the two-storey volume promotes a light and collegiate environment where learning spills out beyond the classroom into the building as a whole.
In a statement Stallan-Brand wrote: "The concept is that of an "orchard of learning", whereby a rigorous grid with paths east-west and north-south are broken up by clearings within the orchard, forming a series of 9 atria.
"Teaching departments are set around these atria, forming courtyard spaces for collaboration and discussion. These courtyards sit below hyperbolic paraboloid roof lights, which bring light and ventilation deep into the plan.
"The overriding design aspiration is to achieve a collegiate and inspiring environment for all young learners attending the school."
Outdoor spaces include external teaching areas, a performance amphitheatre, growing spaces and a 'learning landscape'.
In 2014 the authority inaugurated a £4.8m sports complex at the school delivered by Graham Construction.
Back to February 2022