Crinkled roof permits net-zero Gullane apartments to see the light
February 4 2022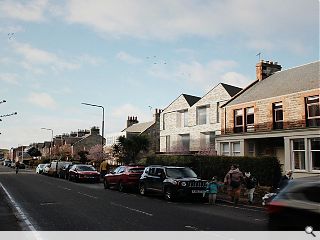 Plans for a net-zero apartment block have been brought forward for Gullane, East Lothian, to replace an unlisted bungalow on Main Street.
Studio IMA (on behalf of B&Y Developments) propose to erect four, three-bedroom apartments of a height and scale more consistent with its setting, together with private parking and gardens on the 2.5-acre town centre plot.
Set back 8m behind the building line the apartments adopt a distinctive roof geometry, precisely oriented to maximise through sun while providing visual interest. Photovoltaic panels are to be positioned on south-facing surfaces to maximise solar gain.
In a statement, the architects wrote: "The new development integrates itself into the existing urban grain of the street and demonstrates an appropriate pattern of built development for the re-use of a village centre site. It is suggested that an appropriate massing, scale and form has been achieved to maintain the character of the area, whilst also addressing a shortage of modern and generous flatted accommodation in Gullane.
"Given the prominent site on the Main Street, a high-quality design solution has been achieved that demonstrates an appropriate aesthetic response which also achieves a highly efficient, sustainable building on an existing low-quality domestic house plot."
Built from cross-laminated timber the primary facades of the net-zero block are to be finished in long format, handmade, buff coloured clay bricks, with a darkly pigmented render reserved for the ground floor.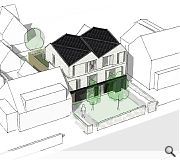 Development will be pushed forward towards the building line, retaining space for gardens
Back to February 2022