Facelift planned for 1960s Merchiston home
January 27 2022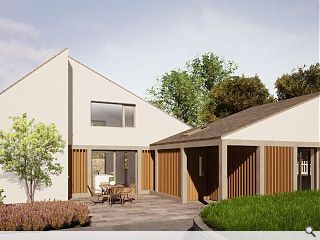 Taylor Architecture Practice (T-AP) has prepared plans for the refurbishment of a 1960s home at West Castle Road, Merchiston, to ensure the home remains suitable for modern living.
The current property constitutes an L-plan extension to a Victorian coach house finished in roughcast concrete. Planned works include a reconfiguration of internal spaces, including conversion of a garage to habitable accommodation with the formation of new openings and the addition of a timber and glass screen set within a rendered concrete frame.
In their design report, T-AP wrote: "A new covered entrance if to be formed on the corner of the existing garage wing. This creates a natural point of entry that provides a degree of openness and transparency that is currently lacking from the existing building.
"A frame in smooth rendered finish defines the edges of the new openings and wraps around the base of the building, Within the frame are alternating timber-slat and glazed panels which provides a more refined and delicate material treatment in contrast to the heavy masonry walls elsewhere. The existing roughcast is to be painted an off-white colour."
Set within the Merchiston & Greenhill Conservation Area the home sits in an area of established Victorian sandstone villas.
Back to January 2022