Wedge workshop & studio to bookend Lower Largo
January 26 2022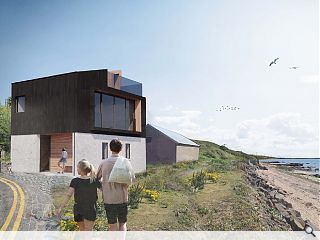 56Three Architects have obtained planning consent for the erection of a modest workshop and studio overlooking Lower Largo Beach, Fife.
Housing an open plan workshop or garage on the ground floor the property rises via a top-lit stair at the rear to a studio gallery and a sheltered roof terrace above, offering elevated views across Largo Bay.
In a statement, the practice told Urban Realm: "The site previously contained a small garage with a prior consent to erect a traditional 1½ storey new build property. Our proposal retained the established footprint but pushed the envelope vertically to generate additional floor space, with a roof terrace providing uninterrupted panoramic South facing views over the Forth towards East Lothian.
"Designed as a simple contemporary form, the building will be a bookend to the eastern edge of the village and a gateway to the section of the Fife Coastal Path linking Lower Largo to Shell Bay and Elie."
Bookending the eastern extent of the village the development comprises a robust plinth of light grey brick with metal cladding to the upper levels with inset features formed from vertical treated hardwood.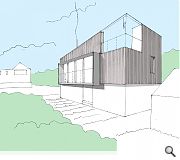 Access to the south will be maintained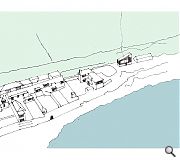 The workshop terminates a line of buildings along the seafront
Back to January 2022