Green agenda drives Glasgow office redevelopment
January 14 2022
Clearbell Capital has appointed Sheppard Robson Architects to develop proposals to vertically extend 150 St Vincent Street after acquiring the property from a fund managed by PineBridge Benson Elliot.
The proposed extension would double the floor space of the 1976 building to 152,000sq/ft while negating the carbon impact of full demolition and rebuild. Through this strategy Clearbell aim to create the city's first operationally carbon neutral office building as well as its first BREEAM Outstanding build.
Works will include an upgrade to the thermally poor existing envelope together with the reuse of materials in-situ wherever possible, including the current concrete structure. Terraces and roof gardens will also be introduced for the wellbeing of staff and to boost biodiversity.
The opportunity will also be taken to build out the full site footprint to maximise floorplates by extending to the rear with a further four setback upper floors resting on top.
Nick Berry, partner at Clearbell Capital said: "As we have seen since the end of lockdown, quality workspace in the right areas continues to attract tenants and to generate good rental income. Glasgow has long been a centre for business and is bouncing back from the impact of the pandemic.
"As well as improved office space that allows collaboration and connection, tenants are demanding strong ESG credentials too. With the renewed impetus of COP26, pressure on landlords is ramping up to deliver greener buildings than ever before."
An interactive consultation will be held on 18 January between 15:00 and 19:00 ahead of a planning application in the spring.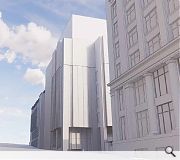 Four additional floors will 'strengthen the existing facade profile'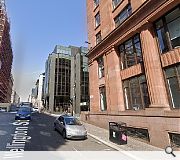 The refurbished office block will match its neighbours for height
Back to January 2022