'Catastrophic' Torry school condition sparks request to up density
January 13 2022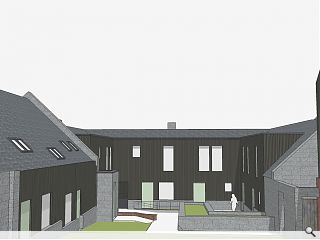 A historic Aberdeenshire school has been lined up for mixed-use redevelopment by Grampian Housing Association and the Torry Development Trust.
Updating a consented scheme from 2019 David Murray Associates (DMA) have increased the number of planned homes across the site from 50 to 55, including 14 apartments housed within the Victoria Road School. This follows a reappraisal of the viability of the scheme after the 'catastrophic' deterioration of the courtyard wings was held to necessitate an increase in the number of homes to cover costs.
To achieve the required density DMA propose to rebuild internal courtyard walls to two-storeys, permitting a new roof profile to accommodate an additional level of accommodation within a former gymnasium.
Outlining the proposed changes DMA wrote: "These new internal courtyard elevations are proposed to be expressed in a more contemporary manner, relating more both in material and form to the adjacent new build, with which they share the courtyard space. Generally utilising the fibre cement cladding, which is being used elsewhere on the new build elements, this material is proposed to be contained by a base course of re-purposed granite at low level. Additionally, areas of granite which are in good condition will be retained and damaged historic gables will be re-instated."
Concern over the loss of multi-purpose community space is being addressed with options being looked at including relocation within the nursery or an undercroft space. /New_plans_emerge_for_disused_Torry_Primary_School.html
Back to January 2022