Queen's Park FC file plans for licensed stadium at Lesser Hampden
January 12 2022
Proposals to upgrade Queen's Park Football Club's training ground at Lesser Hampden to a fully functioning stadium have been filed by Holmes Miller Architects, by introducing spectator stands to the east and west.
The work will increase capacity at the Glasgow ground, which sits in the shadow of the National Stadium, to 1,450 to enable competitive league and cup matches to be held.
This will necessitate relocation of the existing pitch and floodlighting columns, with both stands incorporating conveniences, first aid facilities and a match control room.
In a design statement, the architects wrote: "The aesthetics of the development of the new stands will be in keeping with the existing Clubhouse roof shape, and will utilize a pallet of red bricks with glazed black facing bricks, white signage and white doors to replicate the club's colours. The two stands will be under a continuous roof line, culminating with a raised section at the south east corner."
A glazed black brick entrance pavilion will face Letherby Drive, emphasised by a raised roof pitch clad in metal slats as a visual shield.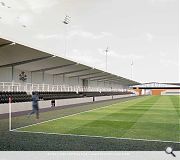 The larger east stand is centred on the reoriented pitch, sheltered by a profiled metal roof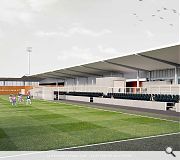 The south stand will cater to away fans with a capacity of around 500
Back to January 2022