Carntyne Primary classroom expansion to increase capacity
January 10 2022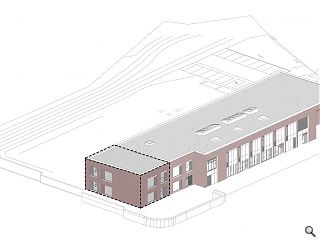 Holmes Miller Architects have returned to Carntyne Primary School just four years after delivering the school to deliver a two-storey extension at the corner of Liberton and Redford Street.
Located within the school grounds the works will be carried out while the school remains operational, increasing capacity through the provision of an additional four classrooms. Following the architectural language of the existing school, the work will include extending the playground toward an underutilised embankment area with a nature trail and planting.
In a design statement, the architects wrote: "The extension follows the principles of the existing school by exactly matching the existing material palette and external envelope product selection. Facing brickwork is proposed to match existing, which will comprise standard format bricks in red tone with a textured appearance. The brick type and colour were originally chosen to reflect the surrounding traditional architecture and aesthetic of the existing schoolhouse of the past."
Carntyne Primary was completed by BAM Construction in 2018 with an initial capacity of 231 pupils.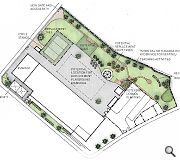 An unused embankment area will provide additional playground space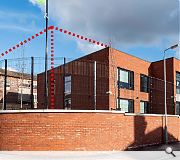 The extension will rise on land earmarked for just such a requirement at the time of the original application
Back to January 2022