Restrained Blackhall home joins growing eclecticism of inter-war suburb
January 6 2022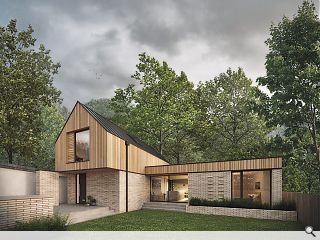 DS Architecture has applied for planning consent to build a detached three-bedroom home adjacent to 20 Hillpark Avenue in Blackhall, Edinburgh. 

Dating predominantly from the 1930s the suburban environment also includes a mix of mid-century bungalows and more recent development, prompting a sensitively scaled design in line with adjacent properties. 

In a statement, Dugald Skene said: "Positioned within the extended garden of an existing property and a former independent house plot, the design proposes two principal forms, one single storey and one over two storeys, offset in plan to create outdoor space to the rear as well as the front. Views are focused to the front or rear to mitigate risk of overlooking any neighbouring properties and the structure is positioned back from the street and at the lowest point of the site. 

"The building will be finished using a restrained palette of light clay brick to complement the traditional stonework and render of the mid-century properties located on the street, and randomly arranged open jointed timber cladding above. The line of transition between materials provides a strong datum across the whole structure to which the ground floor glazing all addresses, creating a simplicity in aesthetic." 

The house is awaiting a determination from Edinburgh planners.
CGIs provided courtesy of Dalgety Design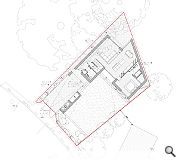 An existing garage will be demolished to make way for the build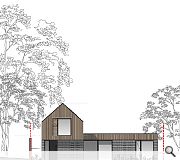 The house is split between a single and double storey elements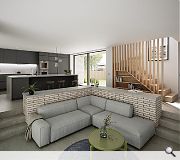 The living space opens onto a small enclosed courtyard terrace
Back to January 2022