Plans emerge for Passivhaus certified Highland campus
December 13 2021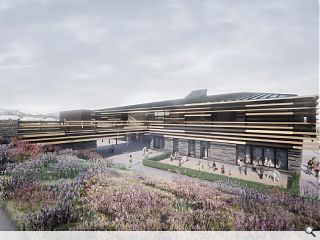 Plans to build the first Passivhaus certified community campus in the Highlands have emerged as part of a schools consolidation drive.
Tain Community Campus co-locates Tain Royal Academy, Craighill Primary School, Knockbreck Primary School and St Duthus School to benefit from shared facilities and a more flexible learning style that pairs classroom education with interdisciplinary working, paired teaching, group teaching, breakout groups and external learning.
Prepared by Stallan-Brand with Kier Construction the campus draws inspiration from the sweeping topography of Tain and the Dornoch Firth by embodying qualities of space and light in the design.
Catering for pupils aged three to eighteen the campus combines nursery, primary, secondary and specialist school provisions all within a five-minute walk of the town centre in a suburban belt to the southwest of the old town - location of the current Craighill Primary.
Managing a precipitous 20m change in levels the topography informs a natural split between buildings and outdoor sports facilities.
Elevations present a masonry base of precast concrete boarded formwork panels contrasted with a lightweight upper comprising glazing and stack bonded GRC panels behind a Brise Soleil to reduce heat gain.
In a statement, the architects wrote: "The architecture sits into the gently sloping alluvial landscape presenting a carefully fashioned silhouette that registers sympathetically on the horizon, respectful of the awe-inspiring highland setting.
"Landscape design by Rankinfraser is defined by a series of embankments and level terraces with careful tree planting, providing vertical interest at key focal points and acting as a buffer to noise. The outdoor space is beautifully curated with green gym trails, amphitheatres, natural play areas and sports pitches to encourage outdoor learning, play and socialising and gathering for all ages."
Billed as the first project of its size to be Passivhaus certified the campus will maximise daylight, employ thermal mass heat capture and storage and natural stack ventilation.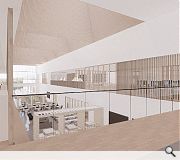 Classrooms are positioned adjacent to breakout spaces to encourage flexible learning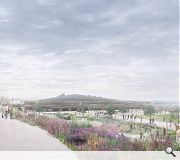 Landscaping encourages outdoor learning, as seen from the main approach from the south
Back to December 2021