Multifaceted Battlefield Homes put gap site to rest
December 10 2021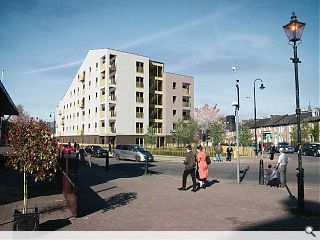 Sanctuary Scotland Housing Association has lodged plans for an affordable housing complex for the over 55s in Langside, Glasgow.
Occupying the site of the former Queens Park School on Prospecthill Road the development occupies a gushet site opposite The Victoria development and has been designed 'in the round' to be approached from all sides.
A design team formed by Collective Architecture, City Design Partnership and Jane Dobson landscape architect has been briefed to deliver adaptable homes to the HAPPI and Glasgow Standard's to enable residents to maintain healthy independent lives in later life.
Described as the final piece in the puzzle to revitalise the Battlefield Rest junction the development fronts a public green space and entrance protected by railings. A density of 36 units per hectare is proposed for the site, re-establishing an urban edge to Grange Road to open up the rear of the site for a communal residents garden.
Further amenity comes in the form of inset and projecting balconies with larger recesses to the south providing additional external space. These faceted terrace balconies run the length of the complex to provide access to each home as well as informal social spaces with an angular living roof completing the composition.
In a design statement, Collective wrote: "The undulating design was formed not only in the roofline but in the access balcony plan. The balcony steps out in two places giving the residents more space for passing, growing planting or place seating. The angular addition to the balcony ties the building form together, linking the faceted touches together in the otherwise orthogonal building."
Built from a base of grey brick the main elevation is faced in a lighter brick above a continuous projecting concrete ledge.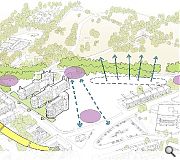 Connectivity to Queens Park is to be improved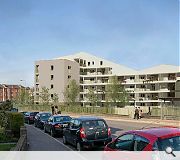 Two render 'mini towers' will face the communal gardens to the rear
Back to December 2021