CALA mount colony comeback at Cammo
December 8 2021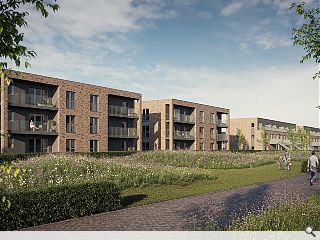 Edinburgh's traditional colony model of housing is being rediscovered in the suburb of Cammo with a modern interpretation of a mode of living made popular in the nineteenth century.
Cammo Meadows by CALA Homes (East) and EMA mixes up ground-level apartments with two duplex homes above, accessible via an external staircase, to forge a stronger sense of community.
Lining a landscape corridor that connects the development to the historic Cammo Estate the homes offer social spaces on the stairs leading to higher-level properties, permitting personalisation with planters and ornaments. A private top-floor terrace is provided for the benefit of upper homeowners.
David Smith, architectural manager at CALA Homes, said: "We've been able to take the best elements of an iconic building design and modernise them into a contemporary style.
"It was important that the traditional aspects of colony housing be adopted within the building design whilst embracing more modern forms of construction.
"The duplexes have a brilliant flow, with the top floor living space integrated with the roof terrace, while the ground floor is very spacious, offering both a large family kitchen area and lounge."
Colony-style housing has also proven popular at the Waterfront Plaza development in Leith.
Back to December 2021