Tenants given the lowdown on £54m Wyndford estate renewal
November 25 2021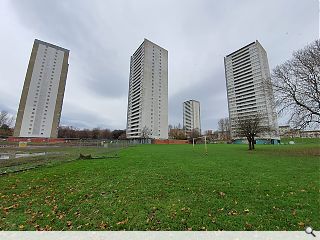 Tenants of four multi-storey blocks at 120, 151, 171 and 191 Wyndford Road have been informed by the GHA of plans to demolish the four towers as part of a £54m regeneration initiative.
The social landlord is inviting tenants of the Wyndford estate in Maryhill to have their say on the plans during an eight-week consultation as part of efforts to deliver hundreds of new energy-efficient homes.
Low occupancy rates and high turnover have prompted the push for more modern accommodation with residents offered alternative accommodation or priority to move into one of the new homes by GHA parent the Wheatley Group.
In a letter to residents, the GHA wrote: "Built between 1965 and 1969, the structure of these blocks makes it very difficult, if not impossible, to make them energy efficient.
"The proposal is to build in their place new, attractive, modern, fuel-efficient homes."
A five-year investment plan for the broader estate calls for the creation of a new 24-hour concierge station, CCTV, lighting and video entry systems as well as community allotments and internal security doors.
A community artwork recalling the area's history as a former army barracks is also planned, as are electric car charging points and bike stores.
Cube Housing Association have invested heavily in low-rise homes in the area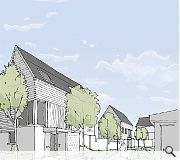 Hundreds of low-rise homes are planned to replace lost accommodation
Back to November 2021