£5m prefabricated panel distillery proposed for Barra
November 25 2021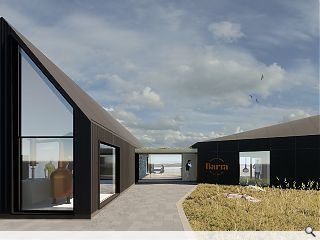 Isle of Barra Distillers has applied for detailed planning consent to erect a £5m prefabricated panel distillery that minimises time and complexity during construction.
The newly established brand seeks to grow the local economy with a purpose-built whisky and gin distillery complete with a visitor centre on a sensitive site at Eolaigearraidh, replacing a current industrial unit at Castlebay. Utilising the topography of the exposed site close to a rocky outcrop the distillery will harness heat recovery for the distilling process and visitors centre with open views to the Sound of Barra and surrounded by Machair grassland.
In a spatial planning statement, Denham/Benn wrote: "The development of two linear forms for both the distillery and visitor centre elements will allow for the views to be maximised from the gin distillery hall, whisky hall and the visitor centre.
"The change in levels on this part of the site presents the opportunity to use the topography to the benefit of the design concept. As the gin hall requires only single storey, it is logical for it to be placed towards the higher part of the site whereas, the whisky hall will benefit from the topography to introduce two storeys.
"The proposed cut and fill within the landscape to provide a lower ground floor level also provides benefits on the visitor centre side. Entering the building from the upper level allows all public areas including the distillery to be on the upper level with only staff areas to the lower level."
Intended to resemble a cluster of traditional farm buildings the distillery will employ fibre cement wall and roof rainscreen cladding with a single storey glass tasting room connecting to the visitor centre.
The potential to use copper detailing to evoke the whisky and gin stills inside will also be explored with the distillery expected to open by March 2024.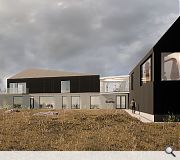 Floor to ceiling glazing will make the most of views toward the rugged Atlantic coast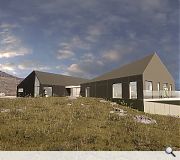 Topography permits a split level design with public and staff areas located on the upper and lower levels respectively
Back to November 2021