Peel pivot from retail to wellbeing at Glasgow Waters
November 19 2021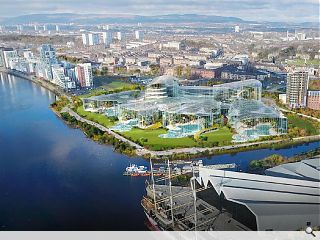 Peel Land and Property has signed a non-binding agreement with Therme Group to bring a well-being destination to the banks of the River Clyde at Glasgow Waters.
Replacing plans for a lifestyle outlet the 320,000sq/ft complex would rise at the confluence with the River Kelvin on a 21.5-acre brownfield site opposite the Transport Museum.
The £100m leisure attraction would host an indoor water park, thermal pools and a spa as well as an on-site vertical farm and botanical gardens to provide fresh produce.
James Whittaker, Peel L&P executive director of development said "This important facility on the Clydeside, adjacent to Peel L&P's existing and proposed developments, will benefit the whole region as well as attract visitors from further afield to come and enjoy Glasgow.
"Peel L&P's vision for Glasgow Waters is to develop the waterfront as a key retail, leisure and tourism destination on the Clyde, which will complement, support and revive the surrounding area."
A formal planning application is expected sometime next year.
Back to November 2021