Wilson's Weekly Wrap: Commonwealth fun & games, From charette to charade & Another chapter in the continuing story of awards
October 20 2008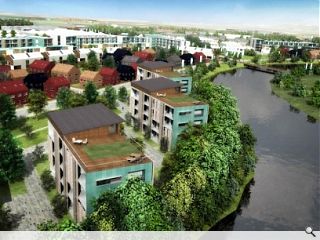 Commonwealth fun and games
I've long despaired of Glasgow's inability to generate any real legacy from any of the many titles it has accrued over the years (Garden Festival, European City of Culture, Year of Architecture and Design et al), so the news that the new Scottish Secretary at Westminster, Jim Murphy, is now actively supporting the press campaign to secure more money to deliver just such a legacy from the Commonwealth Games in 2014 in the form of a specific Lottery fund should, on the face of it, be something to cheer. Cold hard reality, however, suggests such largesse from the National Lottery is more than a long way off, especially now that the government's latest wheeze to sort out the economy is to fast track capital projects that had previously been announced.
It takes very little reading between the lines of this recent statement to realise what is really intended – the London Olympics, an unmitigated financial disaster for now and forever, will soak up every penny piece of available Lottery funding with precious little if anything left over for any other initiatives. This was always going to be the way of course, but it is the 'fast tracking' bit that gets all the warning lights flashing: forget £9.3bn plus contingencies as the overall, not-to-be-exceeded budget, the government's track record of delivery within cost plans is non-existent (you only have to look to the NHS or the Ministry of Defence for proof), forget large tranches of matching private sector money going into the biggest of the Games' projects – the likes of Bovis Lend Lease couldn't raise its share even before things got iffy in the financial sector; and forget the notion that there will be any spill over from London to the rest of the country when it comes to the development of new facilities – it will be enough of a struggle to deliver what was promised for the east end of London. Like the banks, the Olympics have effectively been nationalised – without any concomitant national benefit.
The plight of the Commonwealth Games 2014 is actually far greater now than it was even a couple of weeks ago – the unexpected need for life-support for RBS and HBOS' has effectively eradicated the country's largest existing sources of sponsorship funding. With no other obvious benefactors, it looks increasingly certain that delivery at all will be hard enough to achieve – and once again Glasgow can forget any notions of legacy.
From charette to charade
Try as I might, I find it hard to get emotional about the collapse into administration of Gregor Shore, a development company that was until last week highly active on Edinburgh's waterfront. Not that I've any axe to grind with the company's now jobless employees: it's just that the company produced probably the two finest examples of all that's wrong with the regeneration plans for the land between Granton and Leith. Gregor Shores' egregious 'Platinum Point' and its sibling, the maritimically-challenged 'Anchor' development, represent all that was – and is – misguided down waterfront way.
Constantly touted by the City of Edinburgh Council, Waterfront Edinburgh Ltd, Scottish Enterprise Edinburgh and Lothian and Forth Ports plc as a 'world class' undertaking, the new landscape emerging from Granton to Portobello has been far removed from any standard that might be described as being of international quality. Unless of course you accept a poor provincial re-interpretation of ideas from overseas but derived of any sense of place or relationship to the capital city it purports to adjoin. These organisations – and Waterfront Edinburgh in particular - have also been responsible for some of the most execrable architecture seen in Scotland for many a long day. It's almost two years since a charette led by RMJM Ltd was held to address questions of what gives a waterfront real distinction, but no lessons seem to have been learned – Graham Bell of the capital's Chamber of Commerce, for example, seems to think all will be sweetness and light for developers once the banks start lending again. In your dreams Mr Bell – that world has gone. The current hiatus, meanwhile, provides the breathing space for more charette's that actually address the kind of waterfront the capital really needs.
Another chapter in the continuing story of awards
The RIAS only has six chapters, so you'd think it would have been fairly simple to co-ordinate the annual awards and dinners in each area to ensure a sequenced programme of events and press announcements. OK, so you didn't have such unrealistic expectations and are relieved to know that you simply won't be able to attend both the Glasgow Institute of Architects dinner in the city's Oran Mor venue and the Inverness Architectural Association's do in the recently reopened Eden Court Theatre. Unless of course you have projects shortlisted for awards from both organisations, in which case you'll just have to make a judgement as to which one is most likely to deliver a good result for your practice. I know I rattle on about the plethora of award schemes out there, but all these dinners really are seriously bad for architects' health and bank balances, since taking the requisite table is never less than a grand these days and often adds up to considerably more once the cost of hotel accommodation and travel is taken into account.
That said, the Inverness Architectural Association does merit real praise for the imaginative and very professional approach it has taken to its award scheme this year – dividing its fiefdom into six zones (Highlands Central, West and North, Moray, Western Isles and Orkney and Shetland) the IAA has produced six well-designed booklets highlighting the best projects in each area. It also managed to phase the relevant local awards ceremonies over a six month period (June to October) thereby maximising the pr value with the final, regional award presentations following in November. By breaking the process down in this way, even the smallest and most rural practice has had a fair chance of recognition - and the encouragement to participate next year. Given the geographical area covered by the IAA, this has been an impressive piece of organisation on limited resources, and a real lesson to other, less energetic RIAS chapters. Even if you don't have a project shortlisted for a regional award or have no appetite for yet another dinner, you could do considerably worse than attend the IAA's imaginatively programmed conference which - surprise, surprise – takes place in the Eden Court Theatre on 14 November ahead of the evening event.
Highland Housing – Fair to Muddling
Still in Inverness, the continuing saga of the Highland Housing Fair, an event participating architects are increasingly viewing as a dead duck. This despite its postponement until 2010 and the recent announcement of buckets more dosh being poured in from the Highland Council and Forestry Commission Scotland. Regular readers of the Wrap will know I have argued again and again for a radical rethink of the project's financial model since the existing one – even before the credit crunch – simply wasn't likely to deliver the promised goods. The two tranches of funds mentioned above (£40k and £30k respectively) simply aren't going to touch the edges of the project's financial problems and in the current climate the vague suggestions that are being made of further cash from other public agencies seems a bit like advertising aerial displays of the porcine variety. Sorry guys, but this tinkering around the edges just won't do: if the Housing Fair fails to deliver there will be no second chance to try the idea out again somewhere else (as has always been planned) – that's just the Scottish way of things. What's needed now is a bit (ok, a lot) more openness from the organisers and a genuine willingness to engage with some really radical – and deliverable - financial options. More on this next week.
PR Tip # 7
A glance through October's BD magazine (a supplement to BD that focuses on a specific theme in each issue – in this instance, refurbishment) offers an interesting variation on the practice profile: 'the BD Masterclass'. The structure is simple – an established architect gives advice in a Q & A session to a young up-and-coming practice, with an accompanying text that offers background to the work of each. The practices sharing the stage here are Malcolm Fraser Architects and GRAS, the acronym employed by the Groves-Raines Architects Studio to distinguish itself from Nicholas Groves-Raines Architects Ltd, the well known mentor to several generations of talent working in the profession today, Fraser included. The point of mentioning the feature here though, is that all three of the above named practices secures a mention: Fraser gets some very positive publicity to counter the rather unfair coverage he received in the press several weeks ago, GRAS gets three of its projects illustrated (not bad for a practice still to complete anything much other than its own office) and Groves-Raines the elder gets a name check – a win-win all round with the publicity reaching a UK-wide professional audience.
OK, so there might not seem to be so many of these opportunities, but a bit of homework – and the tenacity to push the idea to different magazines operating in the subject area you want to be highlighted within – can prove invaluable. Add the fact that features like this require very little preparation time or financial input and you can see why they should have a role within your own PR strategy. You don't even have to find a young practice to mentor - a feature built around a presentation on your specialist subject to a school of architecture could produce similar results.
And finally…
Way back in July I wrote of the demise of the 40 storey Elphinstone Tower in Glasgow and my presumption that the market for priapic structures would evaporate. Not so - it seems the owners of Dubai's wacky sail shaped hotel towers now want to build a not-quite-so-wacky-but-still-26-storey-high version in Argyle Street, cheek by jowl with gm + ad's SAS Radisson. It seems the City of Glasgow Council just can't get enough of this type of planning application and its grand plans to turn the city centre into a pale version of Houston seem undiminished. That's Houston Texas for the sceptics amongst you, not Houston Renfrewshire. Mind you, I could be wrong.
Back to October 2008