Green House combats greenhouse effect
October 15 2008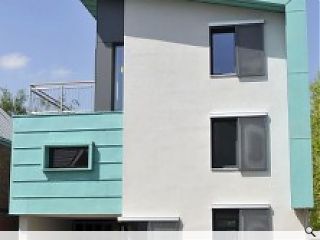 The first home to be constructed by a mainstream builder that meets the Government's Code for Sustainable Homes, which all new houses must meet by 2016, has been unveiled by Barratt in the shape of the Barratt Green House.
Designed by architects Gaunt Francis, the home has been built at the Building Research Establishment in Watford by Barratt Developments PLC and fitted out by Armour Home. A key consideration of the design was the balance of environmental sustainability with comfort, relaxation and fun.
The Barratt Green House will emit zero carbon on average over the course of a year and has been designed to generate more energy over a 12 month period than it uses, due to the solar panels on the slanting south facing roof and walls. All hot water is generated by solar energy and all heating is provided by a ventilation system running through a heat recovery system.
This technological savvy is augmented by the 'Smart home' approach has been adopted to ensure the house is also a pleasure to live in and practical on a day to day level.
Barratt approached Armour Home with this aim in mind, looking primarily at the company's Systemline Modular – a built-in multi room, multi source audio and video home entertainment system that has been used and proven in hundreds of new builds across the UK. It was of particular interest to Barratt because of its efficiency; the amp is 90% efficient so uses very little energy.
With Systemline Modular residents simply plug in their existing home entertainment equipment into a wall socket and listen to the contents in any chosen room using a remote control or keypad, depending on the level of Systemline package chosen. Systemline provides entertainment in each room, for every member of the family, whether mum wants to watch a movie, dad wants to listen to the radio or the kids want to catch up with their favourite soap opera on TV. Discreet mono, stereo and 5.1 cinema surround sound is all available through Systemline.
SystemNet colour touch screens display and control all lighting, all motorised shutters on external windows, heating and ventilation, door entry, music server, iPod, radio and DVD. Apart from the DVD all the sub systems mentioned are controlled using two-way RS232 communication, which means full music and video metadata and status feedback of lighting and heating. The touch screens allow the resident to switch all lights off centrally by the front door or bedroom. They also display the temperature of the house (there are three temperature sensors that take an average reading), so easy adjustment of ventilation and cooling from the motorised shutters can be activated. In this installation there is just one zone for the heating, but you can create a number of different zones to have different heating levels and times.
A standard electrical contractor cannot install this without any guidance but no extensive training is required either. Armour can supply the schematics and are on hand to guide contractors through the installation process.
The Barratt Green House shows that Systemline has matured as a control system as well as a multi-room audio and video system. What's more, it shows Armour as being at the forefront of the greener home, using technology to improve energy efficiency and enhance people's lives.
The Barratt Green House may look to the Future, but it's very much a home of today that demonstrates how new build can be environmentally sustainable for the mass market and remain a great, fun place in which to live. Vital if such housing is to be adopted by the general public.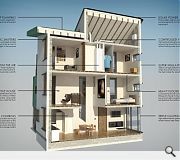 Back to October 2008