Make mine a Builders
October 15 2008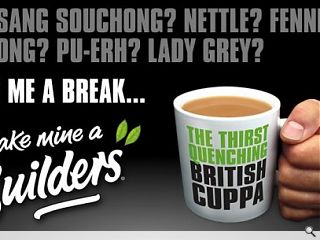 In a drive to produce that elusive blend of the perfect cup of tea, Make mine a Builders have elicited the aid of Britain's foremost tea connoisseurs, our jobbing builders.
In partnership with the Federation of Master Builders Make mine a Builders aims to quench the thirst of both builders and the British public alike with a brew specially blended from east African leaves for tea drinkers everywhere and taste tested by an expert panel of 300 builders.
Make mine a Builders is available at Asda stores nationally.
Back to October 2008