Rosslyn Castle stabilisation bid goes to planning
|
Send to friend
September 29 2021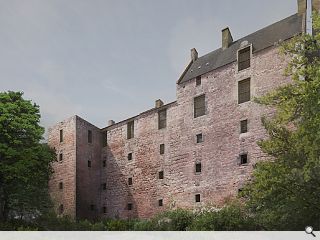 A historic Midlothian castle is to be stabilised from further degradation for the first time in centuries with the submission of plans to protect and preserve the partial ruin.
Dating from the 14th to 17th centuries Rosslyn Castle lies a few hundred metres from the famous Rosslyn Chapel, nine miles south of Edinburgh on the north bank of the River Esk.
The A-listed castle lies under the stewardship of the Rosslyn Chapel Trust and is currently not open to visitors, with habitable portions in use as holiday accommodation.
In a statement, Page\Park Architects wrote: "Following a long process of research, study, and careful consideration of the most appropriate intervention options, the proposal seeks to prevent further deterioration of important parts of the Castle's East Range, which have lain exposed to the elements for centuries.
"Re-roofing the Great Hall and tower will also improve the quality of the experience for guests and secure the long-term future of one of Midlothian's most historically significant buildings.
"It is unusual that a ruin and habitable structure coexist within the same building footprint and the proposed works will re-integrate both elements while following current conservation guidelines."
In 2012 Page\Park completed a £7m visitor centre for Rosslyn Chapel.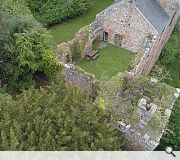 The castle was partially restored in 1984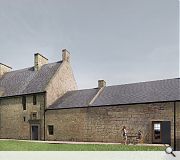 The Great Hall and tower will be re-roofed to protect surviving fabric from further decay
Back to September 2021