85-acre Winchburgh park begins phased opening
September 28 2021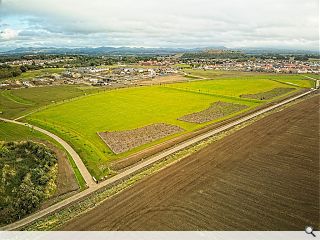 An 85-acre park in Winchburgh, West Lothian, has welcomed its first visitors with the completion of the first 20 acres of landscaped grounds, including 15,000 new trees and shrubs overseen by Optimised Environments.
Auldcathie District Park is centred on a reopened Drovers Road link path connecting the village to the Union Canal, opening up access to grassed playing areas, 2km of paths and trails and a 1.5 acre community garden.
John Hamilton, CEO, Winchburgh Developments Limited said: "Auldcathie District Park is one of the 'jewels in the crown' of our masterplan for Winchburgh and it's fantastic to open the first phase for the local community to enjoy. After £8 million worth of investment and extensive reclamation works, it's great to finally see the land come back to life. We recognise the importance of quality outdoor spaces for both physical and mental wellbeing of the community here, which is why we have invested significantly in this project."
Largely reclaimed from a former landfill the site had lain unused for over 17 years before reclamation and capping works to prepare the land for its new role.
Subsequent phasing through to 2023 will see a further 15,000 trees planted as well as a dedicated bike park, wildlife sanctuaries and an orchard. At this time a cafe and public conveniences will also be provided at the centre of the park.
Back to September 2021