104 courtyard Granton Harbour homes delivered
September 15 2021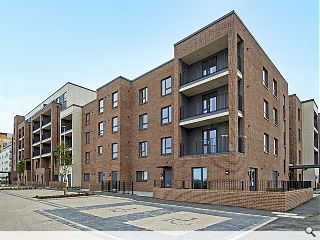 A burgeoning residential neighbourhood at Granton Harbour has taken a step toward greater cohesion with the completion of 104 affordable waterfront homes.
Delivered by Port of Leith Housing Association the accommodation comprises 46 homes for social rent and a further 58 apartments for mid-market rent on a city block bounded by Heron Place, Heron View, Heron Lane and Hesperus Crossway.
Enclosing a large central courtyard the Hackland and Dore designed block was delivered by CCG with structural engineers Bayne Stevenson Associates and services engineer The Keenan Consultancy.
Group chief executive Heather Kiteley, said: "The location is close to various paths and networks that interconnect North Edinburgh's greenspaces. I am sure the community here will enjoy making the most of the city's coastline and all the sustainable transport options it offers.
"This new development has the lowest Environmental Impact Rating, good insulation, and is fitted with air quality monitors throughout."
Construction began in March 2019 with completion this August.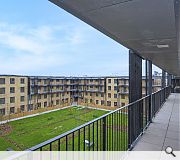 Properties range from one-bedroom flats to three-bedroom duplexes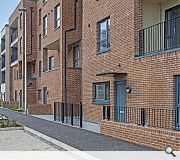 The site at Heron Place was acquired by Port of Leith Housing Association in 2008 and then land banked
Back to September 2021