'Vertical gardens' set to rise on defunct New Town office block
August 25 2021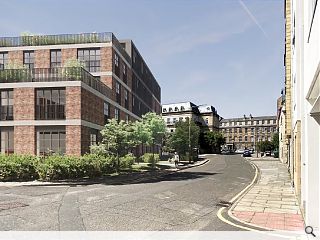 Residential developer Square & Crescent has selected a site at 7 Henderson Place Lane, Edinburgh, for 42 new-build flats.
Morgan McDonnell Architects have been instructed to deliver on this aim by the demolition of a vacant 1980s two-storey office building currently on the 0.2-hectare site.
Situated toward the northern edge of the New Town Conservation Area the proposals call for a kinked U-plan block to be built taking better advantage of the land available while establishing a central entrance and amenity courtyard. Both legs are stepped in height to maximise light and views to this space with the connecting block dropping to four floors to present more expressive massing to the street. This will have the added benefit of permitting private terraces to be built alongside a pre-planted green roof to establish a 'vertical garden'.
The central block and roof elements will be expressed further through the use of dark cladding, contrasting with the brick body of the main facade.
In seeking approval for this intervention the architects wrote: "As a currently vacant site that benefits from very good access to public transport and local amenity, the site represents an ideal opportunity for residential development of a density that is suitable for sustainable urban living.
"This site arrangement has been developed with high quality communal and private amenity space at its core. This would provide the development with a unique landscaped setting that currently does not exist within the immediate context. The proposed inclusion of a green roof will allow the building to perform an essential function in supporting bio-diversity and water management within the urban environment, ensuring the ecological and environmental success of the building in the future."
Formal ground level gardens and planted roof decks aim to treat the building as an 'urban garden' with play equipment, seating and growing beds provided.
Back to August 2021