Giant apartment complex to tower over Charing Cross
August 12 2021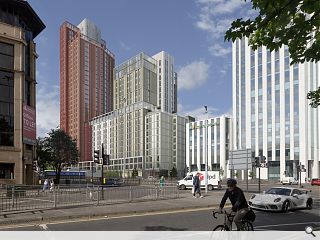 Watkin Jones Group has submitted plans for the tallest building in Glasgow as part of a complex of 685 apartments adjacent to Charing Cross Station.
The mixed co-living and build to rent complex will rise on the site of the former Portcullis House on India Street, with 279 rental properties to the north and 406 studio rooms in a 17 storey tower to the south adjacent to Scottish Power.
Embracing low and zero-carbon technologies such as heat pumps and low energy lighting with no on-site parking for residents offered. Instead, the priority will be to facilitate new retail, food and drink, office and leisure options in a high amenity location. A booking system will also be put in place for members of the public to gain access to the top floor of the main tower, where a community space will offer vertiginous views of the city.
Iain Smith, planning director for Watkin Jones Group said: "The design of our proposed homes will help to keep skilled young people in the city who will boost Glasgow's economy. These people are actively looking for a sustainable and desirable place to live in a central location with excellent transport links and places to shop or socialise. This will repopulate the city centre and benefit local businesses as part of an overall renewal of the west end.
"Build to rent and co-living developments are built for the long-term, so our focus is on creating a great place to live for decades with high-quality rented accommodation at competitive prices that appeal to a wide-range of people. There is a huge demand in Glasgow for these homes, which offers long-term security of tenure, combined with the flexibility of renting."
Hawkins Brown is serving as architect on the scheme which will be crucial in meeting Glasgow City Council's City Centre Living Strategy to double the resident population to 40,000 over the next 15 years.
Back to August 2021