Six degrees of separation preserve sightlines at Clarkston church extension
July 28 2021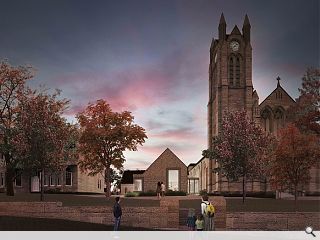 Page\Park Architects have prepared fresh perspectives of proposals to remodel a historic church in Clarkston, Glasgow, to better serve the community.
Greenbank Parish Church's legacy project will entail vital fabric repairs to the C-listed main building, replacing an adjacent non-original hall with new buildings financed by the sale of land for a care home.
Conceived as a series of cloisters the new facilities will face intimate courtyards in a processional route to the gothic revival main sanctuary, rotated 6 degrees to enhance their relationship to a retained manse building.
Pitched roof additions include a replacement hall, multipurpose space, pulled back from the church and connected by a flat-roofed glazed link, mediating scale between the church and a retained manse.
In a statement, the practice wrote: "By pulling the extension away from the existing church, we are able to reduce the area of the listed building which we are building against. Two full-height windows are retained on the south side, protecting light into the sanctuary.
"The rotation of the building also creates an interesting and informal geometry internally for the cloister space, creating nooks and interesting spaces to inhabit. There are rooflights where the building meets the church, again reinforcing the idea of a delicate link to the existing building. The external entrance area is also more defined as a result of creating a rectangular courtyard to the side of the manse.
"Using this geometry also allows us to protect the location of the existing remembrance garden, and retain its location while enhancing its setting."
Finished in cream/buff brick with cast stone reveals to windows the roof and selected portions of the facade will be formed from coloured metal cladding representing the iron oxide present in original stonework.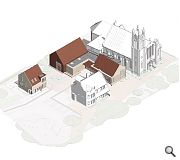 A kitchen cloister, with rooflight views to the sanctuary, will be the social heart of the church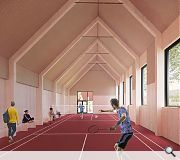 Sightlines to Eaglesham Road are maintained through a large window in the multifunction space
Back to July 2021