Dual vision to see Clarkston church provide a new hall and care home
April 2 2021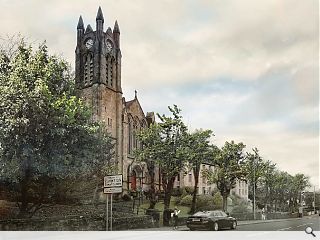 The congregation of Greenbank Parish Church in Clarkston, have filed plans to erect a new church hall extension and detached house to replace the original hall which will be demolished to make way for a new residential nursing home.
A joint application sees Page/Park with RankinFraser oversee the new church facilities, while Holmes Miller and TGP deliver the nursing home element on behalf of Morrison Community Care, which has purchased the church hall site to the immediate north.
Developed in tandem the first element to hit planning is a 58-bed residential and nursing care home which will replace The Cowley Hall while retaining an avenue of mature trees running alongside Eaglesham Road.
Justifying the intervention Holmes Miller wrote: "The church halls to the north of the church are specifically excluded from the listing and are of a significantly inferior quality to the church. The Cowley Hall, built in 1926, has some gothic styling and sandstone features set in a grey render. The other parts, built in 1937 are plain structures with little architectural merit."
This will permit a buff brick care home to rise in its place under a slate roof. Set 5.3m back from the main church to avoid impinging on its C-listed neighbour the new build will employ a feature gable projection to signify the main entrance, angled in symmetry with the existing church.
Separately a fundraising campaign is underway to raise cash for replacement church facilities which will focus on a kitchen cloister that removes the need for blank corridors by creating a social space and cafe to serve as an entrance space.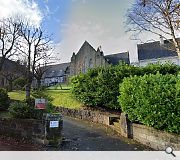 An unlisted hall and caretakers lodge will be demolished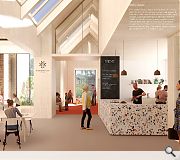 Page\Park will deliver a kitchen cloister finished in cross laminated timber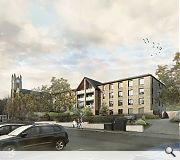 The roof pitch of this projecting gable has been increased to 41 degrees as a nod to the existing Church sanctuary roof
Back to April 2021