Hilltop Dunblane home builds on the past
July 22 2021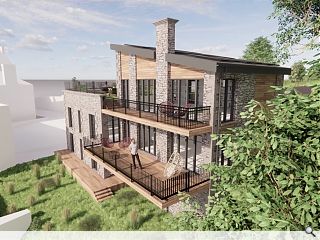 An elevated hilltop home is proposed for the town of Dunblane, tucked behind the B-listed Riverside Hotel and a former mill on Beech Road.
Rising on a steep embankment above the River Allan in the Dunblane conservation area the three-storey property will rise from a series of formed terrace platforms and retaining walls created for the mill.
Main door access to Beech Road is from the upper ground floor with two lower levels following the steep contours of the overgrown site.
In a statement, Enspire Architects wrote: "The design form is of a simple rectilinear box formation reflecting the industrial character and architecture of the existing and former mill buildings, with finishes of locally quarried natural stone, dressed quoins and rybates to corners and openings and coursed random rubble infill.
"Horizontal natural timber cladding panels are utilised sympathetically to relate to the surrounding tree belt. Windows and doors are proposed to be metal casement 'Crittall' style to the west, south and east elevations with timber sash and case at the north-facing elevation viewed from Station Road. A regularised fenestration of large window openings to the west elevation overlooking the river gives a sense of the historic heritage of the townscape."
The house will be topped by a roof garden enclosed by a corbelled stone parapet and wrought iron balustrade, presenting minimal structure to the road.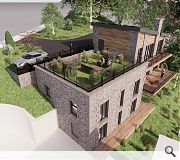 Built into the hillside the home will present a deceptively small mass from Beech Road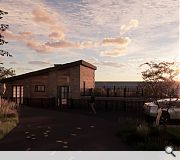 The monopitch roof will house an array of solar panels
Back to July 2021