Scottish Sculpture Workshop set for autumn expansion
July 12 2021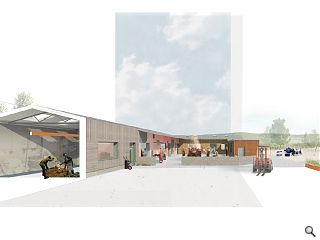 The Scottish Sculpture Workshop (SSW) is to commence work this autumn on the £1.75m first phase of expansion at its Aberdeenshire workshop after receiving grant funding from the Bently Foundation.
Planning permission is in place for a significant expansion including a new ceramics studio and refurbished residential accommodation artist studio as part of efforts to investigate the role of making and material processes on the environment.
Improved accessibility is at the heart of the project, with SSW set to reposition their office and entrance to facilitate improved navigation. Overseen by Collective Architecture the project will establish a more inclusive frontage with a prominent public making space facing out toward the surrounding community of Lumsden.
Ewan Imrie, Collective Architecture, said: "We are thrilled to see the first phase of redevelopment progressing at SSW. Although this initial phase will be modest in scale, the transformations of how the spaces can be utilised will be dramatic allowing many more people to take part in activities here and benefit from this wonderful facility. The changes will also greatly improve wheelchair users' access and accommodation, providing a uniquely accessible facility"
Development work is set to begin this October for completion by April 2022 ahead of the second phase of expansion which will incorporate foundry and casting spaces, wood and metal workshops, additional storage for materials and an accessible, residential bothy.
Back to July 2021