Highland capital on track to establish itself as a biotech hub
July 2 2021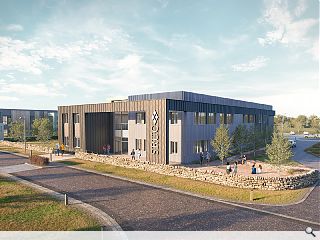 Scotland's Rural College (SRUC) has gone public with plans for a bioscience-led research centre combining laboratory and research spaces focussed on animal health and disease control.
The Rural and Veterinary Innovation Centre is set to rise at Inverness Campus on the outskirts of the Highland capital, serving as an incubator for new businesses providing products and services for the agricultural economy. Hosting a necropsy suite to conduct autopsies on wildlife as well as lecture and workshop areas the building will also serve as a venue for community outreach.
Led by Threesixty Architecture the design splits the centre into three distinct elements unified by common cladding elements. The practice states: "The three elements are clearly defined by the use of material, colour and height each creating its own identity while being held together by a wrapping shroud of cladding which binds the building together as a whole.
"'The blue jewel' houses the main offices and research laboratories and its importance is signified by increased height and feature colour."
Wayne Powell, principal and chief executive of SRUC, said: "It's never been clearer that human health and animal health are part of the same system. By bringing researchers and commercial innovators together within the same space, we have a wonderful opportunity to develop new products and technology that will help prevent and deal with a future pandemic."
Designed with the RIBA 2030 climate challenge in mind, the project will utilise passive design measures and prioritise renewable and zero-carbon energy where possible. Upfront embodied carbon accounted for through materials and construction will also be minimised.
Budgeted at around £9m the centre is being project managed by Currie & Brown.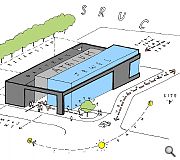 A triumvirate of distinct elements are dominated by 'the blue jewel'
Back to July 2021