Mews views
October 8 2008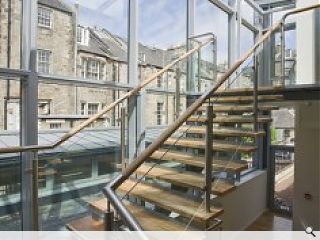 Malcolm Fraser Architects have completed new office space at Young Street Lane North in Edinburgh for Sundial Properties.
The site is located within the grid of secondary streets that form the North side of Edinburgh's original New Town and consists of three derelict mews houses and a Victorian lawyers office, located a full storey below the level of the mews houses.
The project creates simple, naturally lit, open plan office spaces within the existing buildings by rationalising the roofscape within a series of new zinc enclosures.
In the mews building the new roof is used to raise the existing eaves and give the upper office floors a more generous ceiling height. In the lawyers office high-level clerestorey glazing is used to bring improved levels of daylight and natural ventilation deep into the space.
The different levels in the existing buildings are linked together by a third glazed structure containing a new steel and timber staircase. A small urban garden, accessed from the lower building completes the project.
Back to October 2008