Tesco out of love
October 8 2008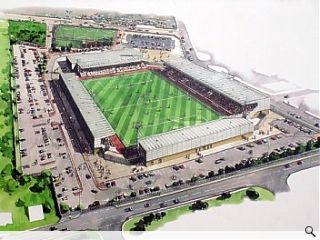 A planned Tesco superstore at St Mirrens ground on Love Street has been knocked out of play by the retail leviathan who have now set their sites on an alternative plot on ex industrial land on Renfrew Road, Paisley.
The new store would match Scotland's current largest at Silverburn on a more convenient site, closer to town.
Tesco are drawing up contingency plans to offload the Love Street site for residential development.
St Mirren have served a red card on their historic home as they up sticks to a custom built stadium half a mile away in Ferguslie, currently nearing completion.
A public exhibition on the proposed Renfrew Road store will take place this week through to Friday. Tesco officials will be on hand to answer questions at The Wynd Centre, in the town's School Wynd, between 6pm and 9pm today, and 10am to 6pm, on Thursday and Friday.
Back to October 2008