£8m St Vincent Crescent development goes back to the drawing board
May 25 2021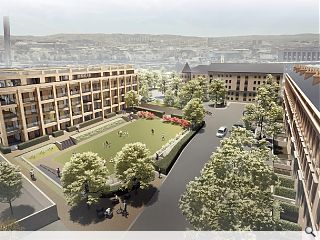 Page\Park Architects have reworked £8m plans for a new residential development at St Vincent Crescent, Glasgow, from the ground up, slashing the number of apartments on offer from 36 to 20 as part of a general reduction in massing.
Now the intention is to meet these concerns by pulling the development back from the street to create a larger public garden and amenity space designed by HarrisonStevens. The buildings will utilise a complementary sandstone finish with all parking hidden out of sight in a basement.
Lead architect Chris Simmonds of Page\Park commented: "The new application is a completely different design, not only in terms of the position and scale of the proposed building but also in terms of the configuration, layout, and usability of the amenity open space to the north of the proposed residential site and within the general environment of St Vincent Crescent as a whole.
"The result, we believe, is a high-quality proposal with placemaking at its heart, responding to the historic quality of the Crescent. The development and significant new garden space will result in a tangible enhancement to the area, completing the original 19thcentury masterplan vision of Alexander Kirkland."
Developer Nixon Blue will be hoping it's a case of third time lucky at the contentious site after planners threw back prior iterations due to a loss of open aspects from the A-listed crescent opposite.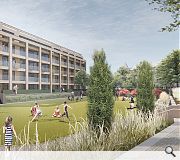 A fresh approach is being sought after prior attempts hit a planning brick wall
Back to May 2021