Dundee Gasworks chosen for verdant Eden Project
May 21 2021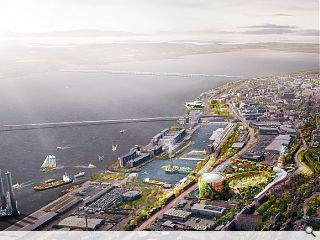 Dundee City Council has showcased the first tantalising visualisation of how a possible Eden Project could transform a former gasworks into a biodiverse attraction.
The image illustrates how industrial land at East Dock Street could be transformed from a place to avoid into a major visitor attraction by utilising tall brick walls as a shelter for impressive walled gardens, all within a mile of V&A Dundee.
Themed on nine 'guilds' associated with historic trades the site will be divided into distinct character areas namely; Healers, Growers, Navigators, Myth-Makers, Noticers, Alchemists, Celebrators, Menders and Re-Sourcerors. Within these areas will be a variety of attractions such as a Lookout platform, a hi-tech hydroponics bunker and a mining experience.
Councillor John Alexander, leader of Dundee City Council, said: "Completing the feasibility study and identifying the preferred site are another two important milestones on our journey to bringing Eden to Dundee.
"It truly is an incredible project, which will wow city residents and visitors alike. What Eden has envisaged is the transformation of an industrial site into a world-class attraction with a focus on the environment and sustainability."
The attraction is part of a portfolio of UK projects supported by Eden, creators of the original Eden Project in Cornwall and is backed by landowners National Grid and SGN.
The feasibility study for the Eden Project Dundee site was led by the inhouse creative and design team at Eden Project International with support from architects at Nicoll Russell Studios in Dundee and Feilden Clegg Bradley Studios in Bath & London.
Back to May 2021