Roof terraces top revised Shawland Bowling Club apartments
May 19 2021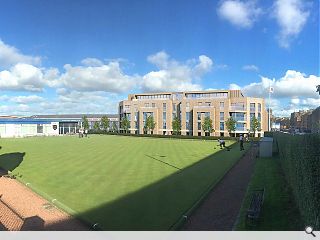 New plans are in train to transform an unused green at Shawlands Bowling Club with the erection of new apartments and a clubhouse following the refusal of a 2018 application considered to be an overdevelopment of the site.
Led by Kelvin Properties and Holmes Miller Architects the rebound plan will once again see a section of the current clubhouse demolished with the remainder refurbished to cater for a reduced membership.
This will permit the construction of apartments on the disused northeast green fronting Pollokshaws Road, taking into account a 10m 'no build zone' around a telecommunications mast.
Finished in weathered buff brick, gold-coloured metal cladding and precast concrete the development will also include two communally accessible roof terraces to the east and west absent from the earlier plan to provide amenity space.
In a context analysis, the architects wrote: "This new application locates a commonly accessible roof terrace on the block adjacent Pollokshaws Road. Otherwise, this section is as granted by the Local Review Committee, including the parapet heights."
Back to May 2021