Queen Street Station levels up with a podium wildflower meadow
May 18 2021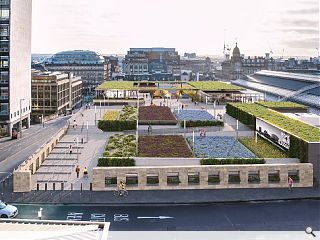 Glasgow's Queen Street Station is set for further expansion following completion of platform extension works, with the submission of plans for ancillary operational and customer facilities below a new podium deck suitable for future over site development.
Enhanced facilities are part of a package of works proposed by Transport Scotland as part of an enhanced station entrance from North Hanover Street. A project team led by Atkins, with Simpson & Brown as heritage consultants, will lead the delivery of these aims, safeguarding land for an additional high-level platform to accommodate anticipated growth in passenger numbers through to 2049.
The eastern extension would provide ample space for additional operational facilities, retail, food and drink outlets within an existing cutting, below a reinforced deck suitable for bearing a subsequent 300,000sq/ft commercial development. A key goal of the planned works is to facilitate pedestrian movement toward the Cathedral Street corner by way of a diagonal concourse link utilising a combination of stairs, escalators and lifts to mediate the steep gradient of North Hanover Street.
Sitting largely within an existing void all that will be visible on approach from the street is a podium 'wedge' of Durastone and gold-pressed metal cladding balanced to the level of Cathedral Street. On an interim basis, it is proposed to create a new public plaza on the roof space incorporating a mix of retail, seating and soft landscaping. Stonework from a former grain store will be retained to define the street edge.
Championing the chosen approach Atkins wrote: "Due to the topography of the site the podium is largely underground to the north emerging as a taper to the south to the rear of the Millennium Hotel. Until development is in place the roof of the podium is designed as a public plaza which is fully accessible from within the station, via new civic steps positioned as a continuation of Martha Street and at grade from the corner of Cathedral Street.
"The plaza will be landscaped in the 'meanwhile condition' and has been designed to incorporate both a station entrance building and a feature retail unit. These buildings are covered by a single canopy roof which opens in its centre to create a framed courtyard space focused around roof lights to the station below. All this is intended to ensure the plaza deck is activated in both the meanwhile use end-use use states."
In this way, it is intended to promote health and wellbeing by establishing a temporary wildflower meadow in the heart of the city offering expansive views to George Square.
Back to May 2021