Clynelish Distillery fuels whisky tourism with a dramatic visitor centre
April 29 2021
Diageo has opened the doors to its latest distillery visitor centre following a multi-million-pound redevelopment.
Clynelish Distillery near Brora was remodelled by Michael Laird Architects last year but has had to remain shut through lockdown. Now with a phased reopening of the economy underway and a resumption in domestic travel boosting the popularity of local attractions, Diageo have held an official reopening ceremony.
Those who make the trip will experience a fully overhauled visitor experience that includes interactive and multi-sensory exhibits with devices such as secret rooms and hidden keys to build allure around the liquid gold. Landscaping has been undertaken by The Paul Hogarth Company.
Barbara Smith, managing director of Scotland brand homes for Diageo, said: "Sustainability from grain-to-glass is at the heart of our ambition for the future. Through our tourism investment in Scotland, we are focused on creating destinations that will be sustainable in the long term... "
Clynelish Distillery forms part of a £185m package of tourism investment by the drinks giant through the creation of a network of visitor centres, focussed on a seven-floor attraction in Edinburgh.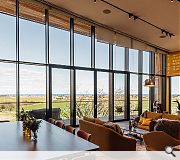 A dramatic glazed wall offers expansive views across the North Sea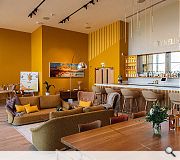 A well stocked bar ensures the surrounding landscape can be soaked up in comfort whatever the weather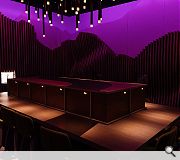 Visitors who make the trip are promised a fully sensory experience
Back to April 2021