NHS Lothian begin work on Western General cancer unit
April 23 2021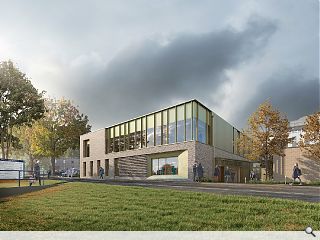 Delivery has commenced on a new treatment facility at NHS Lothian's Western General Hospital in Edinburgh designed by HLM.
The linear accelerator (LINAC) will combine radiation-shielded bunkers, a cancer assessment unit and oncology administration offices with a direct physical link to the existing Radiotherapy Department.
Key to the chosen approach will be measures to deinstitutionalise the environment as far as possible such as ceiling grids designed to mimic a bright sky and overhead trees, as well as a calming interior design defined by warm colours and timber accents.
Symbolic references to patterns, textures and colours found in nature will also be incorporated throughout.
HLM director Lorraine Robertson said: "We centred our design approach on creating a space that would support and positively influence both the psychological and physiological health of patients and other building users. We kept biophilic design at the forefront to help foster an environment that was connected to nature and to keep the mind nourished and the senses at ease."
The complex build will be delivered by Robertson Construction and FES within a live hospital environment, avoiding disruption of services through a phased programme of works.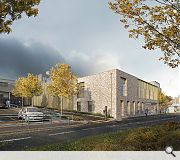 Staff areas will be right and bold, providing staff with a feeling of separation from clinical spaces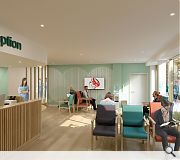 The front reception will incorporate warm, natural tones and lively colours to add a human touch
Back to April 2021