Novel twin-screw turbine to power Inverness homes
April 21 2021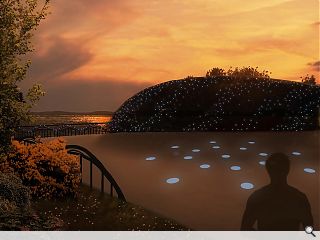 Highland Councilors are to be asked to approve final designs for a unique hydro-electric power project on the banks of the River Ness at Whin Park.
The Archimedes Screw design has been under development for several years and will translate the rotation of twin water-powered screws to generate an estimated 100kW of electricity - sufficient to power 150 homes and provide an annual income of £90-£120.
Expected to become a tourism attraction for the region an on-site visitor centre is also planned, designed by Leslie Hutt Architect and Northern Ireland based HydroNI.
Enhanced by a covered viewing platform, seating and digital information screens the attraction will invite the public to view the process of drawing water from low to high level via rotation of a screw.
A separate fish ladder will permit safe passage for migrating fish through the sluice.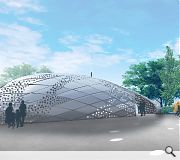 A public viewing gallery will stand alongside a segregated plant room
The plant is situated 2km to the south of Inverness city centre
Back to April 2021