Newtown St. Boswells to coalesce around new village centre
March 29 2021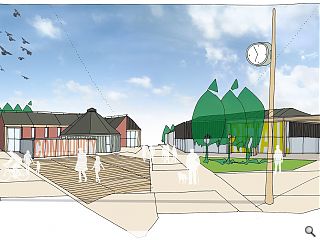 The historic settlement of Newtown St Boswells is in line for a secondary centre after Scottish Borders Council awarded planning in principle to plans for a mixed-use redevelopment of an auction mart site.
Proposals by H&H Group and Cadell Property would see a collection of sheds swept away in favour of a mix of retail, leisure and 150 homes as well as modern premises for rural businesses.
Led by Michael Laird Architects the work would establish a linear public market close to the town centre accessible from a new High Street and town square.
New routes would be lined by new buildings leading to Scottish Borders College and include replacement premises for the auction mart, including a village hall. Residential areas will embody home zone principles with buildings rising to no more than three storeys.
Conceived as a new village centre the proposals will accommodate a future Waverley Line Station.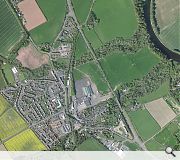 Redevelopment will create a new village centre around a possible reopening of the railway station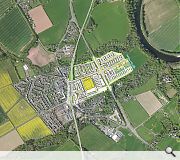 The masterplan will establish a new hub for rural life
Back to March 2021