Deceptively understated home to join exclusive King's Cairn development
March 5 2021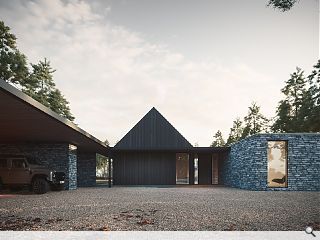 Brown & Brown Architects are to shortly file plans for a substantial bespoke home within the eclectic King's Cairn residential development at Archerfield, East Lothian.
Overlooking a golf course the upmarket build is inspired by traditional building forms with modest dry stone walls flanking a black painted timber gable as seen from the road, before opening out into sheltered external spaces deeper into the site.
In a planning statement, the architects wrote: "The proposed building is a single-storey volume, with a mezzanine area to the South-East. The form of the building is broken into distinct elements, with a pitched roof social block at the heart of the house, and low stone-clad green-roofed elements sitting around this (guest bedrooms, master suite, garage, garden room).
"Whilst the plot sits adjacent to the main access road, it is certainly possible to site a house upon it which create a clear distinction between public/private space, and this has been a key driver of the design process."
A covered walkway will connect a subsidiary garage to a detached garden room via the social areas with bedrooms also pulled away from the body of the main home, accessible by connecting corridor and a glazed link.
The massing of these perimeter spaces will be kept consciously lower than the central entertaining area to establish a clear visual hierarchy and further emphasise the entrance.
Back to March 2021