Larch cladding breaks the mould
Send to friend
* Required fields
|
Send to friend
September 30 2008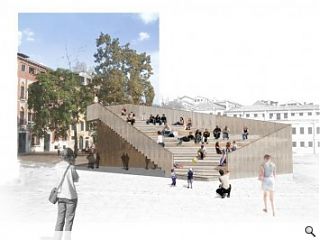 Russwood
, the sustainable timber specialist, are celebrating the successful cladding in Scotlarch® of the high profile "Gathering Space" exhibition from Gareth Hoskins architects for the Venice Biennale and a separate project for Albyn Housing Association at Broadford on the Isle of Skye.
European Larch has long been used for cladding in northern Europe, thanks to the strong and robust nature of the timber which can be relatively knot free, but is only now finding favour within the UK as an attractive and effective cladding solution.
The texture of the wood naturally ages to a silvery grey colour over time, providing a rustic quality that blends well with landscape.
All timber is sourced from within a 70 mile radius of Russwood's Station Sawmill in Newtonmore, cutting down on costs and pollution caused by transporting materials. Local felling, machining and distribution make this a very environmentally friendly material.
Back to September 2008