Aberdeen Seedpod to grow regions food & drink sector
February 10 2021
Aberdeen is to establish itself as a food and drink hub with the creation of a £21m Seedpod to grow the sector.
Led by Opportunity North East (ONE), an investment grouping chaired by Sir Ian Wood, the industry hub will serve as a springboard for local business by providing manufacturing capacity and other facilities to improve innovation, productivity and innovation.
Situated within Scotland Rural College's Craibstone campus close to the airport the facility is backed by both UK and Scottish government's and the city council to help diversify the regional economy. Described as a centre of excellence the facility will offer 30,000sq/ft of flexible accommodation including 12 incubator units, two industrial kitchens and testing laboratories alongside co-working spaces.
Patrick Machray OBE, chair of Food Hub (NES) and vice-chair of ONE, said: "SeedPod is the critical ingredient that will help north east Scotland's significant food and drink sector to innovate, accelerate growth, increase productivity and target foods of the future products at high-margin markets. It will provide young businesses with essential space to grow in its production incubator units, support established companies with productivity and market development, and is a strategic asset at a critical time for national sector recovery and growth."
A planning application will be made shortly with the procurement process to find a main contractor to deliver the hub later this year underway already. Led by lead consultants Keppie Design and landscape architects LDA Design Seedpod is scheduled to open in 2022.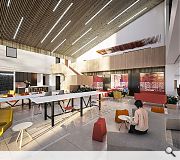 A flexible atrium hall can accommodate collaborative working and events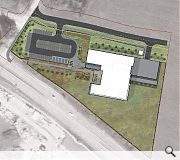 Non-standard pink metal cladding, resting on a solid masonry base, could be made semi-translucent
Back to February 2021