Grassmarket Community Project eyes expansion
January 12 2021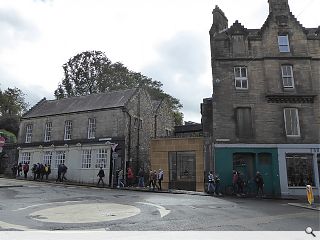 Hoskins Architects have revisited proposals to extend the Grassmarket Community Project in Edinburgh's Old Town by erecting a 36sq/m community pavilion within a courtyard at 84-92 Candlemaker Row.
The facility was built in 2013 to provide services for vulnerable citizens in the area but now requires additional flexible space for a cafe and breakout area to increase capacity.
First conceived as a double-height expansion, the latest proposal is for a single-storey addition which will allow the existing fire escape strategy for the main building to be maintained, removing a requirement for wayleave agreements on neighbouring sites, and providing a stand-alone building that can be constructed while the main building remains operational.
In a design statement, Hoskins Architects wrote: "The new proposed pavilion aims to provide an engaging and attractive addition to the existing Grassmarket Community Project while addressing the need for expansion to ensure that the Centre continues to thrive. The new pavilion is sympathetic to the surrounding context and it's scale relates to that of the original Kirkhouse and adjacent tenement building 'shop front.'"
Conceived as a standalone addition the new pavilion will have a dedicated entrance allowing it to operate independently of the main building, necessitating removal of an existing timber portico, a picture window in the Kirkhouse Building and front gates. This will allow a wedge-shaped cafe to be introduced suitable for use as an events space alongside a new entrance gate to secure the site out of hours.
Fronting the street with a thick sandstone wall punctured by a large picture window the cafe will address the remaining courtyard with floor-to-ceiling glazing.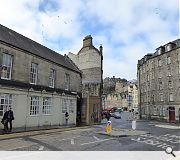 A new 'shop front' takes its cue from neighbours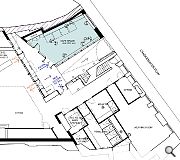 The new cafe will stand as a standalone pavilion within the courtyard
Back to January 2021