SoCo phoenix rises from Cowgate ashes
|
Send to friend
September 25 2008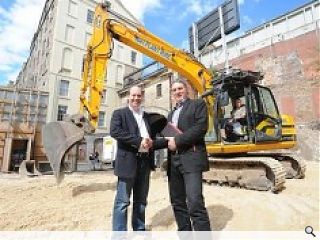 A planning application has been submitted by Whiteburn Projects for the prominent £40million SoCo development. This bridges a fire ravaged site at Cowgate in Edinburgh's Old Town.
A 200 bed Hoxton Urban Lodge hotel, led by Pret a Manger co-founder Sinclair Beecham, has checked-in to Edinburgh's SoCo. The "funky budget boutique" plans to occupy the mixed use redevelopment as part of their UK expansion plans.
Allan Murray Architects, said the design was a contemporary interpretation of the existing buildings on South Bridge and the Cowgate.
"SoCo will be a collection of buildings in sympathy with the contrasting urban grains of Chambers Street, South Bridge and the Cowgate, complemented by a network of closes and vennels. A series of courts, terraces and entrance spaces at different levels, with different uses, will bring vibrancy to the area."
The SoCo development will feature a restaurant and bar, along with business facilities and a retail kiosk. The hotel entrance on South Bridge will feature a dramatic atrium space behind the natural sandstone façade, dropping down into the new restaurant. Central to Whiteburn's plan is the creation of two new courtyards within the site, opening up to cafe and restaurant terraces, linked to South Bridge and Chambers Street via two new pends, and down to the Cowgate opposite Blair Street, via new public steps.
The existing steps down from Guthrie Street will be retained and Hastie's Close will be substantially repaired and repaved. The view to the historic Old College dome from Hunter Square has been enhanced as part of the proposals - now complemented by a new focal point tower on Cowgate, with a glazed link bridge over the steps to the re-constructed South Bridge gable.
A retail unit on South Bridge, and a business centre and a potential festival venue on the Cowgate, are also proposed.
The site includes the upper levels of the existing former University of Edinburgh's corner building on 1-3 Chambers Street and a small annex building of the neighbouring Faith nightclub. Key to the scheme will be the reinstatement of the former La Belle Angele nightclub and an extension to the Jazz cellar on Chambers Street.
Discussions have already taken place with various stakeholders, including Edinburgh World Heritage Trust, Historic Scotland, business leaders, councillors and community groups. This follows controversy surrounding similar schemes in the capital, notably Caltongate.
Subject to planning approval and the granting of the necessary liquor licenses from the local authority, construction could start next year, with completion anticipated within a further two years.
Back to September 2008