Child care grows up in Dundee
|
Send to friend
September 24 2008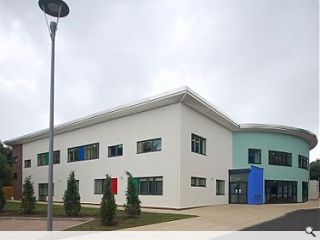 Campbell and Arnott's £3m Armitstead Child Development Centre, situated in a quiet clearing on the South West edge of the Kings Cross Hospital Campus in Dundee, has just completed. The purpose built facility houses nurseries, treatment and therapy rooms, clinic rooms, administration and parent spaces. This replaces previous accommodation in a converted Victorian house.
Almost all recipients of the service will be under nine years of age and have one or more major physical issues. This has influenced every aspect of Campbell and Arnott's design which aims to provide a warm, welcoming and fully accessible building filled with natural light and bright colours. Generous outdoor spaces provide a connection with the woodland setting and the central courtyard provides a safe environment for mobility training.
The building form was dictated by the need to zone the five main uses in a simple but informal manner, while maximising the sustainable features of the design - solar panels to pre-heat water, orientation to maximise daylight, natural cross ventilation using rooflights and the central courtyard, as well as materials selected to surpass the building standards insulation requirements. All of these features helped the building receive a 'Very Good' rating from the NHS NEAT assessment.
Campbell and Arnott were able to draw on their significant experience in healthcare projects, as well as working closely with the Centre Staff throughout the development of the design, to produce this new user focused facility for NHS Tayside.
Back to September 2008