Blantyre care hub to facilitate independent living
November 26 2020
South Lanarkshire Council has commenced delivery of a health and care hub in addition to 45 homes on the former site of St Joseph's Primary, Blantyre.
Conceived as a means to enable people to return to their own home instead of entering long term care the hub will provide the council with options for short term care.
Designed by the local authorities housing and technical resources department the project centres on a two-storey brick care facility with a combination of terraced homes and apartments.
Councillor Josh Wilson commented: "The project is supported by Scottish Government Affordable Housing Supply funding and the housing on this site will be the first to deliver a unique mix that includes technology-enabled homes. These will offer the council and the community a new housing option that can support families and individuals with more complex needs to live with the highest possible degree of independence close to family and friends."
The £16m town centre housing and care hub is being delivered by Cruden, who will move on-site from Monday for 18 months.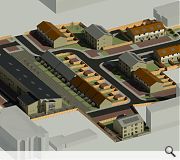 Access will be routed off Joanna Terrace
Back to November 2020